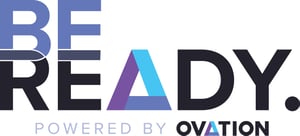 BE READY.

Professional Presence for the Black Youth of America
The concept of race is one of the most polarizing, complex, and nuanced topics facing us today. In the ten years that Ovation has been in existence, we have seen a lot of change in Corporate America, but one fact that has not changed much in the last ten years is the lack of Black people who hold leadership positions. Despite this unfortunate reality, our observations as partners with many large and medium-sized companies are that they are beginning to make concerted efforts to bring greater diversity, equity, and inclusion into their workspaces.
In our conversations, we have learned that for many of these companies, their goals are not to diversify their workforce only, but to groom people of color to assume leadership positions over time. Black youth will be entering the workforce with more opportunities to advance into leadership positions in the coming years. As a company that acknowledges our responsibility to reflect and strengthen the values of an inclusive and equitable society, we also understand that we have to meet this moment in history. We take this responsibility seriously and feel we have a unique role to play in this regard.
Though we didn't need official data to understand that not many Black people hold leadership positions in corporate America, we did the research anyway. Our suspicions were worse than we thought. According to the Center for Talent Innovation, Black men hold only 3.2% of leadership roles at large U.S. companies; and only four CEOs of Fortune 500 companies are Black. (0.8%).
These sobering statistics clarified what our path should be in affecting the change we want to see in the world. We want to see more Black leaders at large companies, non-profits, and academic institutions. In a hyper-competitive global job market, hiring decisions are often made on the margins. The fact that fear of public speaking cuts wages by 10% and inhibits promotion to management by 15% indicates that learning to deliver effective and confident presentations can help our students distinguish themselves from other potential applicants with whom they would be competing.
Our Be Ready. initiative delivers first-class training in the art of communication and professional presence to the Black youth of America. Students will see professional presence modeled for them by Black trainers on the Ovation team and learn techniques to overcome stage fright, use storytelling to deliver engaging content that has the power to influence any audience, and above all, celebrate their individuality. In a world that we hope is now destined to shift toward more inclusion, we believe that we are well-suited to help the next generation of Black professionals be ready for the new opportunities that await them in a changing world.
Though we hope that society moves swiftly to create more opportunities for the Black community and all marginalized people, we know that lasting social change does not happen on its own. That movement toward an equitable and just society can stall without the sustained energy of companies, organizations, and citizens alike. We are heartened by the commitment so many people have already expressed to create a society that offers more opportunities for economic advancement to the Black community. We understand that there will be setbacks and obstacles and we are committed to playing our part in the lifelong pursuit of a more inclusive America. Be Ready. is the first step we are taking in support of this vision.