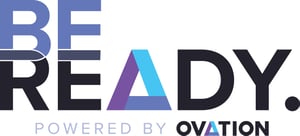 BE READY.

Professional Presence for the Black Youth of America
The year 2020 has been one of deep introspection for all staff at Ovation. As images of social injustice and demands for racial equality have flashed across America's TV screens and social media feeds, we have begun to reflect on how we as a company can best contribute to the realization of an anti-racist society. We see that America has reached a long-overdue inflection point on race and much of the country is crying out for change. As the demands for action from our government have grown louder, we endeavor to be a participant in this change and understand that we have a role to play in challenging the negative stereotypes of the black community that has long been part of America's narrative.
In beginning to ask ourselves the tough questions surrounding systemic racism, we were initially uncertain about what specific action Ovation could take to support the Black community. As a company that works closely with many successful companies, we wondered how the Black community was represented in America's corporate sector. We did some research and were shocked to learn that only 3.2% of leadership roles at large U.S. companies are held by Black men, and only four CEOs of Fortune 500 companies are Black. (0.8%).
Learning of these sobering statistics made clear how Ovation could play a role in affecting the change we want to see in the world. We want to see more Black leaders at large companies, non-profits, and academic institutions. In a hyper-competitive global job market, we are keenly aware that hiring decisions are often made on the margins. The fact that fear of public speaking cuts wages by 10% and inhibits promotion to management by 15% indicates that learning to deliver effective, confident presentations can help our students distinguish themselves from other potential applicants they would be competing with.
Our Be Ready. initiative delivers first-class training on the art of communication and professional presence to the Black youth of America. In a world that we hope is now destined to change, we believe that we are well-suited to help the next generation of Black professionals be ready for the new opportunities that await them in an anti-racist world. Students will see professional presence modeled for them by Black trainers on the Ovation team and learn techniques to overcome stage fright, use storytelling to deliver engaging content that has the power to influence any audience, and above all to celebrate their individuality.
Though we hope that society moves swiftly to create more opportunities for the Black community and all marginalized people, we are keenly aware that lasting social change does not happen on its own and that movement toward an equal and just society can stall without the sustained energy of companies, organizations, and citizens alike. We are heartened by the commitment so many Americans have already exhibited to create a society that offers more opportunities for economic advancement to the Black community. We understand that there will be setbacks and obstacles but are committed to playing our part in the lifelong pursuit of an anti-racist society. Be Ready. is the first step we are taking in support of this vision.