At Ovation, we focus on the spoken word as a mode for communication, building relationships and leveraging emotional intelligence to understand the audience we speak to. Last week, I had the pleasure of attending Inbound 2013 and I am glad to say the conference exceeded my expectations. I left inspired, motivated and with a revelation - we were marketing to the wrong audience.
Before I address my revelation, our business revolves around presentation skills and training speakers, particularly delivering compelling content at trade shows and conferences. I came to my first Inbound with probably a sharper critical eye than the average attendee - yet I was blown away. As the CEO I expected Inbound, like most shows, to be a potential opportunity to promote our services. I was completely wrong. Inbound was an example of how great industry shows can and should be; so much so that I will be taking all of our sales and marketing team next year.
From the keynotes by the likes of Arianna Huffington, "Bold Talk" speakers like Beth Dunne or Susan Piver, to the truly inspiring Rand Fishkin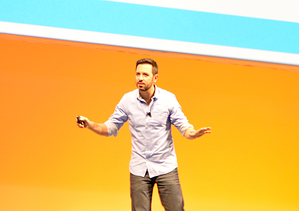 (right) I was blown away not only by the content of the speeches, but the exceptional quality of the delivery. If everyone communicated this well, there would be no place for our Presentation Skills Workshops.
Back to my revelation though. We've spent a lot of time in the past year tailoring our content, including this blog, toward who we believed our target audience is: either Learning & Development Professionals, Human Resource Professionals or producers of industry shows and conferences such as Inbound. That work has certainly yielded results, but not as much as we had hoped. After about a day and a half listening to the expert advice and trying to apply it to our marketing efforts, I realized we were focused on the wrong audience. We still need to provide information for L&D or HR, but the real audience that we provide the most value to are the consumers of our services - the managers who want to improve their teams or the product engineers who need present all the new features they've been working on to the industry.
Once that lightbulb came on, I had a flood of ideas about how much better and more useful we could make our website. Everything I had learned at Inbound to that point and then for the rest of the conference, suddenly had new clarity. We will be bringing a new level of creativity and fun to the site in the coming months that will be both informative and entertaining. Our delivery team are all professional actors with great senses of humor, so we have some real authentic personalities to draw from. It's also going to be really fun.
One of the over-arching themes of Inbound was the necessity of building and nurturing relationships. For our clients that work with us already, they already know that maintaining great relationships is one of our core values. What I realized though is we have so many more opportunities to create and develop new relationships, even casual ones, with the audience we engage online. This possibility alone has us all excited as we take the next step toward growing Ovation.
Finally, if you care about great communication, people, having fun and the endless possibilities of Inbound marketing, make sure you plan to visit Boston next year on September 15th through the 18th for Inbound 2014. To get a sense of the style of this event, check out the Keynote from HubSpot's co-founders below: