Stage technique for professional presentations in large spaces.
How many times a year do you get everyone in one place? Just as in our day-to-day lives, the number of times you may be able to get a large group of people together- be it your entire company, or sales force, or hundreds of potential clients- is relatively rare. You need to ensure that you make the most of those golden moments that you get on stage in front of a large audience.
A few years back I was a soloist with the Boston Pops in Boston's Symphony Hall. It was a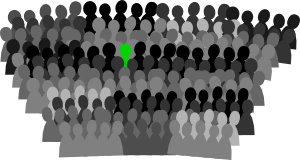 limited concert engagement- a few performances over a weekend, with a group of us performing Broadway hits. I was singing "Anyone Can Whistle" by Stephen Sondheim. (As Keith Lockhart, the esteemed conductor, informed me at our rehearsal, one of his favorites! No pressure...) Symphony hall seats thousands, and while the space wasn't jam-packed every night, it was pretty full.
I can still recall the feeling of stepping up to the microphone in a long, black dress, and staring out into that huge, huge house with the Boston Pops, and Mr. Lockhart himself of course, behind me. I had sung the song a bazillion times- I had worked on it vocally, interpretively- but in that moment I knew that my biggest challenge was filling that room with it, and making sure it reached everyone in attendance. In my mind, I can still feel some of the technical choices I made that day. And while I can't speak to what each audience member personally thought of my performance, I'm still proud of the fact that I had some technique to fall back on in that moment.
After you've rehearsed and prepared, how can you be at your best when you step up to the microphone (or put one on) in front of a large crowd? Some easy technical thoughts can help you as you present your big ideas at your next sales conference, convention, or annual meeting. While the core principles of presentation skills training can play on any stage, here are a few tips that you can take to a big house:
1. Divvying up your audience: We've discussed this idea before, but it bears repeating. If you mentally split your audience up into sections, you can concentrate on individually connecting with an area of a "section", even if you can't see individual pairs of eyes. Yes, this will help with your slow, steady "eye contact", but it was also assist you in your quest to visually connect with every corner of your audience, rather than playing to the same section over and over again. Once you are aware of the actual "sections" of your audience, you can scan the crowd and recognize what sections may have been missed: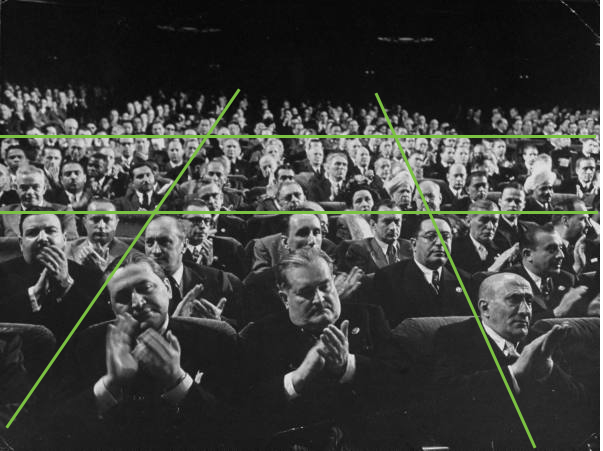 I remember how I divvied up Symphony Hall in my head, down to the front, center and back sections of the upper levels. Not only did it help me connect with those areas, but it helped to ease my anxiety- I wasn't furiously scanning the crowd trying to figure out how to look at everyone at once, I just had to play to those certain sections.
Bonus Tip!: Make sure you spend some extra time connecting with the back quadrants as represented by the graphic above. Often our instinct is to give the most love to the faces we can see down front. Connect with a few points within those sections in the back, and the entire area will feel that you're speaking just to them.
2. Finding your light, but not being blinded by it: The concept of "finding your light", feeling where the light falls and feels warm on your face so you know that you can be SEEN, can have a tricky pitfall- the speaker can feel like they are being blinded by the light. When you're trying to empower or persuade a large team, you don't want to look as if you are squinting into the abyss! Luckily, this has a ridiculously easy fix- watch the tilt of your head. It can be very tempting to lift your chin and face up to the lights, but when you feel the tilt of your chin drastically departing from parallel to the floor, you'll be bringing your gaze directly into the line of the lights. Keep your neck relaxed- good for your strong neutral position and vocal production, as well.
Bonus Tip: If you find you're in an especially glare-y position, try moving your head around just slightly (again, not overly breaking the parallel...). Often, the comfort position with your lighting equipment is just a matter of a small angle. This is helpful when dealing with side light, as well.
3. Using the apron: The "apron" is the area of the stage (or platform) that extends closest to the audience. Especially with a large house, the temptation is there to drift AWAY from the audience, and put some protective space between yourself and the crowd. You need to do just the opposite. In as much as you can, come down onto that apron area and lessen the distance between you. Physical closeness can go a long way when it comes to audience connection.
4. Playing to the back row: As we've said before, projecting your voice with the intention of being heard by the person in the furthest seat from the stage, rather than simply the few people in the front rows, is key to ensuring your message reaches everyone in a large house.
But to do so takes some practice during your rehearsal process with a self-awareness activity that can be carried over to your rehearsals in the space. Hold one hand about 5" from your face. On an extended "ahhh" vowel, project your voice with enough energy so that the sound reaches your palm. (It won't take much!) Then extend your arm all the way, and try it again, adjusting your sound for the increased distance. Repeat the exercise, allowing the front row, half-way back, and the back row to replace your palm, increasing the sound needed each time. The more familiar you get with the amount of sound necessary to fill different distances, the easier it will be to project your content to the back row.
Whether you're in Symphony Hall, or in front of hundreds in Conference Room A, theatrical technique will continue to help you let all of that presentation skills training shine. Make the most of that one big gathering- don't let the opportunity to get your message out there pass you by!