A while back, a friend from college sent me quick message via Facebook to thank me for something I did over twenty years ago. When we were in school, a close friend of his died quite unexpectedly. He desperately wanted to attend the funeral, but was obligated to the play we were working on at our University. Apparently I brought the situation to the director's attention who, in turn, allowed him to take time off to go home for the funeral. Part of his brief note read:
"It could have been one of my biggest regrets if not for you, and your kindness stays with me over 20 years later. I just wanted to thank you again and let you know what a difference you made then and now."
I'm sharing this with you not to boast, but to support my long-time belief that when it comes to gratitude — and most things in life, but especially gratitude — it's not the thought that counts. It's the action.
My friend could have gone on with his life, feeling very grateful, without ever sending a "thank you". I would have never known. I didn't remember doing this. Receiving his note made me feel terrific and his message probably took all of three minutes to write. It reminded me that showing gratitude, rather than just thinking it, is very powerful and positive. There is never a downside to showing gratitude.
Guidelines for Gratitude
Gratefulness anytime, anywhere is always a good thing. But if you're wondering where to start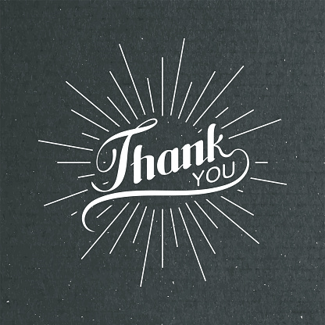 your thank yous, there are a few things that can help you on your way.
Like my friend, many of us have that one incident (or a few) that we frequently revisit in our memory or recount to others. If there's someone in that account that you've always wanted to thank, do it! The fact that their efforts have remained a part of your life for so long tells you what an impact it's had on you. Say the words.
Also, "thank you" has no expiration date. Whether it's been 20 minutes or 20 years, saying
thank you is never out of line. You might think, "It's so long ago, they won't remember." But think of it this way: If you (like me!) were thanked for something YOU did that you couldn't recall, wouldn't you still be glad to be thanked? Gratitude doesn't adhere to a calendar, and when it comes to doling it out, neither should you.
Be excessive in your thanks! You really can't say thank you too much. And remember that just because you've never met in person, or don't know each other very well, doesn't mean you can't say thank you. I'm talking about the customer service representative who went above and beyond, the office manager who made your last meeting smooth sailing, the barista who keeps you happy and caffeinated. Couple your thanks with good eye contact if you're speaking in-person. Don't be afraid to send your gratitude up-the-ladder as well, and let superiors know what's been done for you.
Lastly, be a gracious receiver. If, like me, you're on the receiving end of some unexpected thanks, remember that the appropriate response is "You're welcome." Avoid reducing the importance of the thank you by saying, "No problem," or "No big deal." Thank-er and thank-ee should feel good at the end of the exchange. Make the circle complete.
In honor of Thanksgiving, give someone some "thanks". It really is NEVER too late to offer a "thank you" to someone. I was happy to receive it some 20 plus years later.