Most mid-sized and larger organizations have some sort of formal Human Resources department in place. These departments are a huge asset for an employee/employer relationship; assisting in training, conflict resolution, and fostering a workplace culture.
However, just because your organization has an HR department doesn't mean the need to create strong relationships within your team is taken care of. As a leader, it behooves you to make strong connections with your reports and to facilitate their connection with one another, as well.
Studies show that a majority of managers agree with this idea. As you can read in this article, the Center for Creative Leadership did a study on workplace relationship skills. Out of 400,00 people at over 7,500 companies (that's a lot), 70% of the management level participants agreed that "relationship skills are critical for leadership success". Why are they so important?
Strong relationships in the workplace are a major part of what makes a business successful. Very few of us work in a bubble anymore — collaboration between individuals and departments occurs very frequently. Without strong connections with his or her team, a leader has to work much harder to motivate that collaboration to occur. After all, collaboration is only an effective workplace tool if the people collaborating can get along.
In fact, Corey Criswell with CCL had this to say after conducting another study involving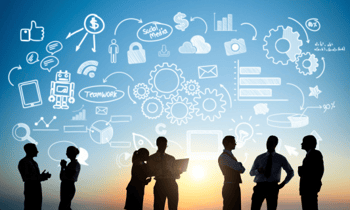 hundreds of senior executives around the world (In part, the study looked at the need for effective collaboration.):
"The almost-unanimous opinion means that collaboration skills should be part of the repertoire successful managers build."
Strong relationships also help with employee retention. We're all well aware of the expense and inconvenience of replacing an employee. By building strong relationships with our team members, we can help to mitigate employee turnover, saving valuable time and money. Not to mention that when people enjoy where they work, and want to stay on, everyone benefits.
How do you start building these strong relationships with your employees? The good news is that YOU have the key! Being authentic is the best way to start. Just by being your authentic self, you can lay the foundation for trust, respect, and solid relationships.
Let your integrity shine through. Model the behaviors and core values you'd like to see in your direct reports. The "shadow" you cast throughout your department will influence your team, and that influence will in turn be projected outward to your customers, vendors, and anyone else with whom your team interacts.
Keep the lines of communication open. Ask, "What can we all do better?" as well as, "What can I do better, personally?" Make sure that you're constantly striving to relate to your employees through open communication.
Strong relationship building skills are a huge differentiator for a company and its managers. And studies have shown that relationship and people skills, (*ahem* Emotional Intelligence...), can also make the difference in determining an executive's success.
Want some more ideas about how you can strengthen and nurture your own relationship building skills? Check out: