Rachel DeBenedet
Training Consultant
Since beginning with Ovation, Rachel has helped hundreds of people around the globe to find their authentic voice, clarify their message, and refine their story. She has worked with executives and teams from such varied companies as Mastercard and Lockheed Martin, Raymond James and Google, Microsoft and Siegel+Gale. Rachel's coaching style was recently described by a client as "fun yet challenging;" she has helped many clients to take on new roles and achieve promotions by cultivating their professional presence and speaking skills, clarifying their messages and their missions.
Rachel's nearly 20 years on Broadway include: "Paula Abagnale" in Catch Me if You Can; "Madame de Tourvel" in Les Liaisons Dangereuses; "Morticia" in The Addams Family; "Muriel" in Dirty Rotten Scoundrels; "Luisa" in Nine (TONY Award for Best Revival of a Musical); and "Elsa—aka The Baroness" in The Sound of Music. Off Broadway, she starred as "Lureena" in Christopher Durang's Adrift in Macao (Barrymore Award for Best Actress in a Musical for the original Philadelphia Theatre Company production), "Lisa" in The Second Tosca (The 45th St. Theater), and "Dolores" in The Wild Party (NYC Encores). A few regional highlights include "Alexa" in As Bees in Honey Drown (The Arvada Center, Denver Drama Critics' Circle Award—Best Actress), "Lily" in The Secret Garden (The Arvada Center, DDCC Award Best Supporting Actress), and "Lilli/Kate" in Kiss Me, Kate! (North Shore Music Theatre, IRNE Best Actress Award nomination).
Her film and tv credits include co-starring as "Ms Kat" in The Hallmark Channel's 2021 favorite The Sugar Plum Twist, starring as "Angela" in the indie movie hit Creedmoria, multiple appearances on The Tony Awards, The David Letterman Show, and Good Morning America!, and a role that ended up on the proverbial cutting room floor in The Greatest Showman.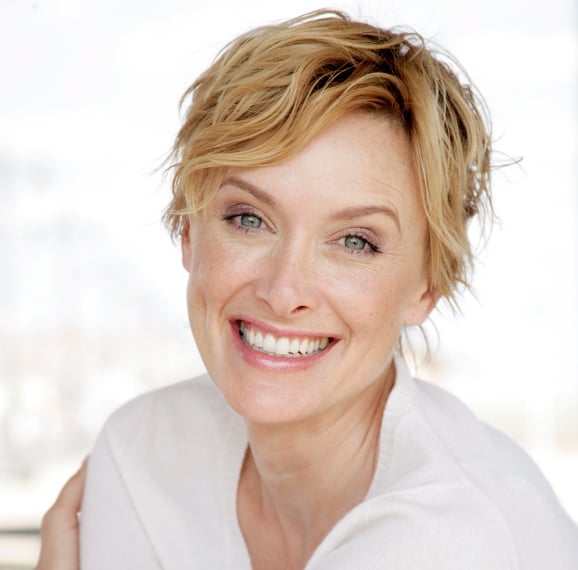 | | |
| --- | --- |
| | 866.202.0422 x715 |
What's one thing you wish the business world would borrow from the acting world?
The sense of freedom that comes with completely "owning" your material. It seems counter-intuitive, but spontaneity requires a lot of work! As young actors we often don't understand that: we don't know yet how to "inhabit" the song, the lines, the dance. We often hear the phrase, "make it your own", but it takes experience and good training to learn how to make that happen. Great directors are able to help performers find that sense of being inside a role. As a trainer I love being able to help people find their way in to their own material, so that they can feel alive and present as they present!
What do you consider your personal trademark as a trainer?
I think one of the reasons I am good at training is my desire to make the trainees (from CFOs to brand ambassadors) feel fully prepared and comfortable. I am patient and I care. I am convinced that every person alive is more interesting than any character ever written, if you can actually hear their personal story.
Which role or performance of your own has meant the most to you as an actor?
I grew up on a college campus where my dad was the head of the theatre department, so the stage was my playground. I have always been very comfortable up in front of people—I knew I could do anything in front of any sized audience as long as I had lines written for me and most importantly, a character to play. So for me, one of the biggest challenges I've ever faced was when I received an alumni award from that same college, and I went to accept the award in front of the professors I'd known since I was a child, as well as the student body. I was asked to speak for 30–45 minutes about my life, career, anything I wanted, but as MYSELF, not a character! I thought and thought about what I could say to these people that would interest them, but also convey to them a sense of who I am and what is important to me. I thought about it for MONTHS. On the plane trip there I finally started writing. And writing. And writing. When I landed I had eight pages of legal pad "script" and I was very happy with the structure and the content. So that evening, as I'm being introduced, I reach into my bag for my notes—and they are NOT THERE. Not a note to be found. I walked up to the podium, took a really deep breath, and started talking. Not speaking, talking. And I was breathing. Living in my own skin in front of 500 people. MYSELF. Because I had been crafting this for so long, I knew my material. And because I had no notes, I never looked down. I connected with them and felt spontaneous and felt completely in control of the room. It was probably my favorite moment on stage in my life.
What can't you start your day without?
Strong coffee. With milk, please.
What is your hidden talent?
I can tell you where I was and what I was doing for every day from 1990–2012. Then my son was born and it all becomes a little blurry. I blame sleep deprivation.