Start presenting with POWER, today!
You're terrified of public speaking.
You're a rock star subject matter expert - but your ideas fall flat because your message isn't being heard.
You're on the verge of a promotion and the result rests on one, power interview.
You find yourself sweating because public speaking gives you heart palpitations.
You have a presentation at a conference coming up and you don't know how to rehearse.
You simply want to show up as your best self when speaking and communicating with others.
Be the Best Speaker in the Room
Become the Shiniest version of yourself in every presentation
Imagine yourself actually enjoying the opportunity to speak.
Rising up in front of others at an event and experiencing excitement and fun.
Imagine you're confidently presenting, with little or no fear.
Perhaps something even goes wrong - there's a technical issue or an untimely heckler - but you're now ready to tackle any "what ifs" that come your way, so you smile confidently.
Your performance shines and your presence radiates.
You may even have slight moments where you stumble, however, you feel natural and powerful - and your audience watches in admiration at your leadership.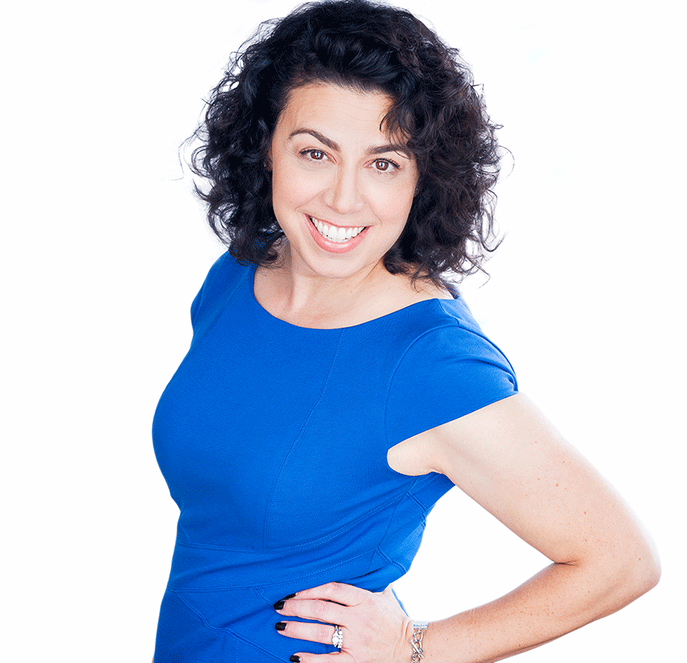 Kerri Garbis, Founder and CEO of OVATION, a high-end communication skills training firm for business professionals, conceived a vision to help all professionals afford world-class presentation training and support.
Since childhood, Kerri, a successful professional actress, often coached and trained business professionals, like yourself, with their presentation skills in between her roles in the limelight.
In 2011, Kerri launched Ovation, a robust consulting firm connecting professional actors to business professionals, with a brilliant proof of concept to empower more people with the best presence coaching and speaker development training available. Ovation burst onto the scene, and within a few years of serving large corporate enterprises, she saw that the one-and-done learning experience can be fantastic yet limited. Getting new habits to stick and muscle memory to take hold of presenting skills requires hands-on, ongoing support.
By popular demand and to provide the full level of support everyone needs as a professional speaker, Studio G was born. Because people develop in different ways and on different timelines, we took it a few steps further. We created a virtual solution that provides a self-paced learning program with live, ongoing support, a supportive community. We even included state-of-the-art AI-driven metrics to help people just like you become the impactful speaker you know you're capable of being.
Yes, you're a busy professional. And we know you want to get better, but you need the convenience of on-demand coaching and support. Studio G exists for you.
Come and join us.
We'll meet you
WHERE you are


and

WHEN

you need us

.
Every month you'll have up to three hours of on-demand, private, one-on-one coaching time.
With our deep bench of seasoned trainers, you will get the time you need, no matter how busy your schedule is or your time zone
You can schedule your session with any one of Ovation's dedicated, professional coaches.
You can even choose your favorite team member!
Coaching sessions are private, secure, and 100% dedicated to working towards your goals and your specific improvement.
What are our Clients Saying?
"Individual time with an expert coach has been a game-changer for my team's development. I love how Kerri's team observes and offers feedback, in the moment, and works with each team member as they implement changes. We've all embraced more productive habits." - VP of Finance
"It's kind of like having a personal cheerleader, who's an incredible mentor, too! I never thought I'd improve my professional presence this fast!" - Business Professional
One-on-One private coaching, access to our writing center to work with an Ovation expert on content creation, monthly LIVE workshops, and bonus modules!

Access to curated learning modules for you to work through at your own pace.
Learn new skills with our learning modules and practice them with exercises, worksheets and one-on-one private coaching.
No time for a one-on-one session? Use our Asynchronous Coaching Tool to have a session in your own time.
Practice in your own private virtual platform and immediately implement your new communication skills.

Rehearse and say your content out loud, you can record yourself in your new Studio G private platform and receive immediate, AI-driven feedback on the performance of your delivery.

Want more specific guidance? Instantly submit the session and request personalized feedback from a coach and receive guidance within 48-72 hours.
By using Studio G and observing how you present, you'll be able to see the changes you need to make, so that lasting change becomes simple.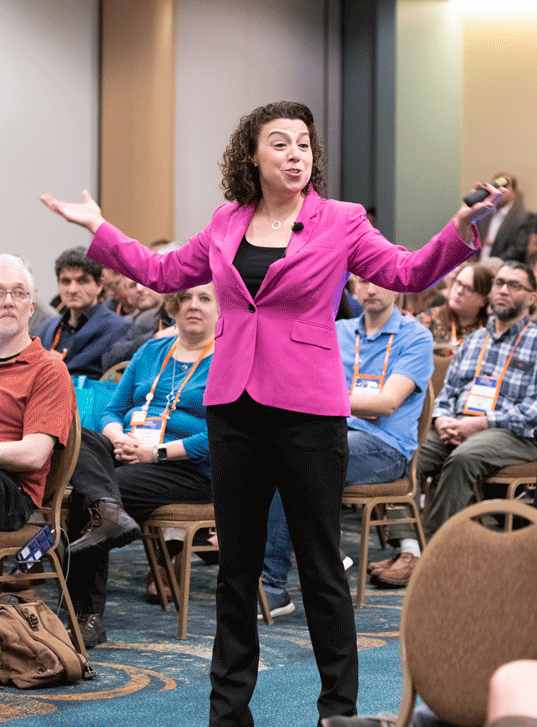 Additional Benefits of Studio G
Request feedback from your Studio G peers.

Or, you can record and keep it all totally private. It's your Studio. You decide.

Upload a recent, live presentation that you recorded from a meeting or conference.

You'll get immediate results from an Ovation coach using our asynchronous coaching tool!

Post questions, trouble-shoot, vent frustrations, and share successes in the Studio G community and explore what others are asking and learning about.
What Else Can You Do with Studio G?
Improve your technique and confidence.

Try out an opening line.

Share in all caps "I ROCKED MY PRESENTATION".

Reveal a bad presentation and get real support and encouragement.
Studio G is a
Community
- Not Just a Resource
You'll find that you belong in Studio G as you begin to participate.
Maybe you want to share a victory. Or maybe nerves got the best of you and you're bummed. Either way, you can share all of it for support, words of encouragement, wisdom, and a lot of "likes" from peers and enthusiastic coaches who've all been there!
You can brainstorm different ideas you want to put into action. You can share challenges.
You can belong to a community that can keep you on track so that you can achieve your goals.
When you engage with the Studio G community, you connect with other professionals on a similar journey of development and we're all here to support each other.
This is why you're here. We'll help you be the shiniest version of yourself, every day, in your own way simply by joining Studio G.
Live coaching in a private, secure, encouraging environment

so you get the help you need in real time and get the coaching you need to improve your presence and presentation skills.
L

ive interactive workshops

so that you accelerate your development, stay motivated, and implement all that you are learning.
Curated Learning Modules

for easily accessible, self-paced learning.
Online community for support and encouragement

that allows you to surround yourself with a group of people who share your desire to improve.
The best professional presence and presentation skills coaches in the business

so that you are learning from experts and seeing a model of the behavior you want to achieve.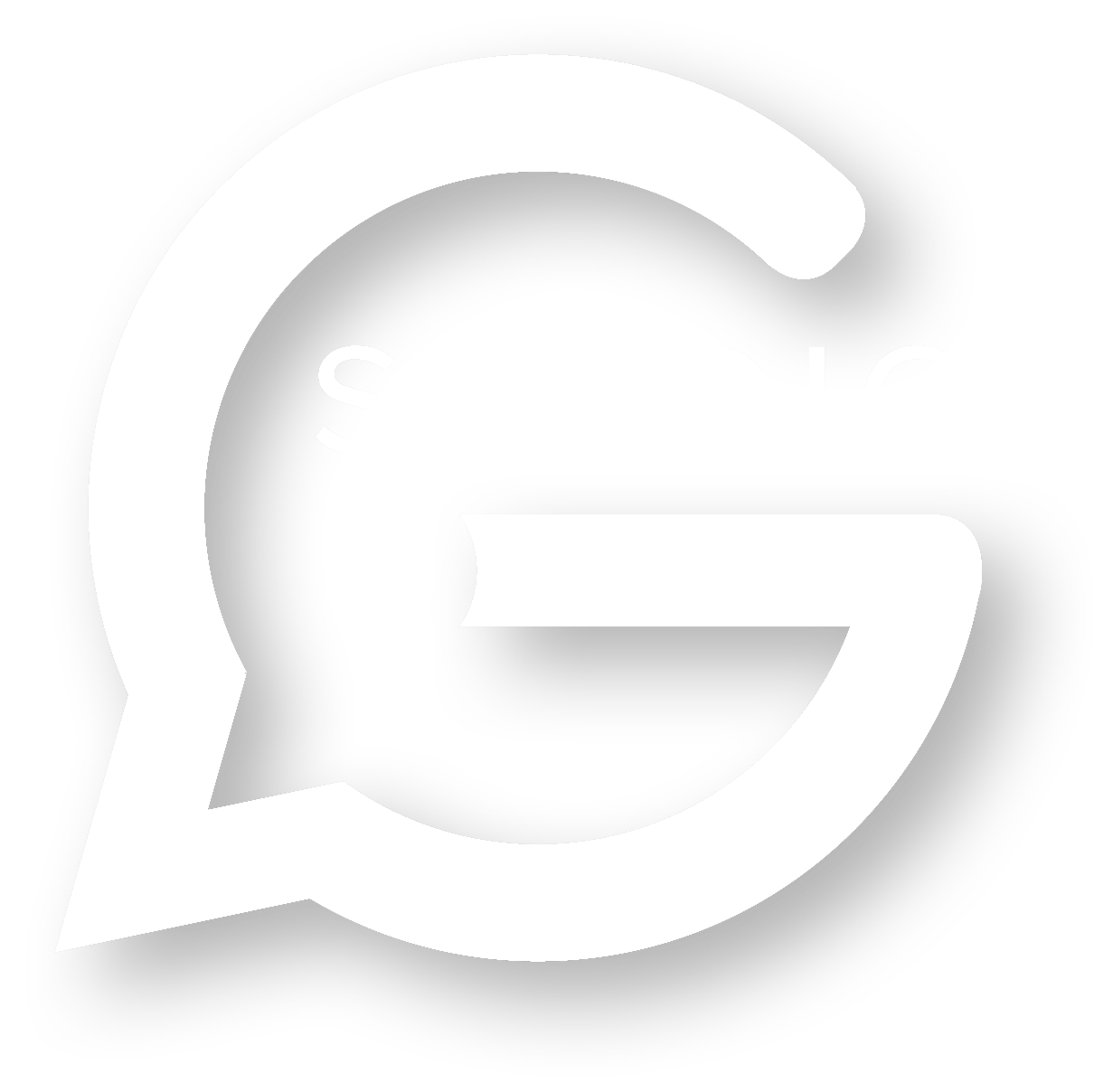 Studio G is the modern-day speaker coaching solution that uses technology, community, and live coaching to

bring the best presenter out of you.