Keir Kirkegaard (he/his)
Integration Lead, Training Consultant, Ovation Community Manager
Keir Kirkegaard is an actor, singer and a new first time parent. He has a BA in both Acting and Musical Theatre and has been a professional actor for the last 14 years. While he loves his life on the stage, he has always had a passion for teaching and as a facilitator he gets to combine both of those passions. Keir approaches his work at Ovation with one main goal, to highlight each speaker's own strengths and personality; there are no public speaking robots here! Communication looks different on each individual and Keir loves to help speakers find their own voice and style. His coaching sessions usually include some silly jokes, lots of energy and a relaxed, fun environment. Public speaking doesn't have to be scary, and Keir helps speakers by giving them the tools to be more confident in their own abilities, make deeper connections with the material and audience and to have fun while doing it. During his time at Ovation, Keir has worked with entry-level employees to top level managers and CEOs for a range of companies including Raymond James, TIAA, Tableau, Microsoft, Mastercard, VMware, Slack, MB2 Dental, My Eye Doctor and many more.
Keir has been fortunate to make a living being on stage and performing all over the world. His favorite credits include, Rock of Ages in Las Vegas and on Norwegian Cruise Lines, Mamma Mia at the Hollywood bowl, several award winning shows at the Rockwell Table and Stage in LA, and most recently he played "Brandon" in the upcoming film Happy Camper, streaming next year on UPTV.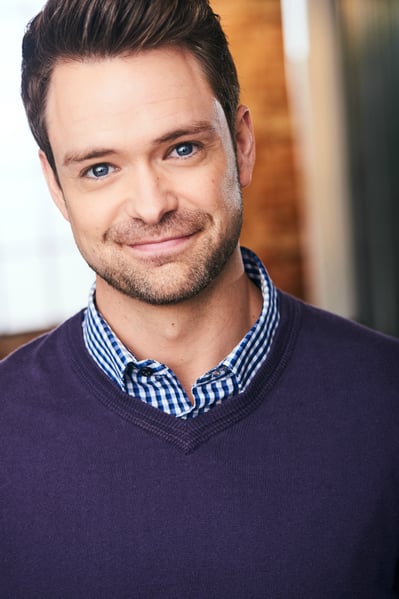 | | |
| --- | --- |
| | 866.202.0422 x708 |
What's one thing you wish the business world would borrow from the acting world?
I wish they would borrow the goal to make the material relatable and exciting. The job of an actor is to evoke an emotional response from the audience by living out the truth of the character on stage. So many times the business world forgets about that and only focuses on the numbers and data. I believe that there is a way to present the logistical information while still keeping the material relatable and exciting.
Which role or performance of your own has meant the most to you as an actor?
Getting to perform in Rock of Ages in Las Vegas. I saw the show on Broadway as a senior in college and it is still to this day my most special and memorable theatre experience. The story is not overly deep and it is truly meant to just be an escape for the audience, but I was so moved and touched by this show. I remember saying, "I am going to be in this show one day…", and to get to perform that number years later is one of my most special memories.
What's the sports team you give your all for?
Either the Denver Nuggets, Avalanche or Broncos.
What is your personal motto?
Treat others as you want to be treated... be a good person.
What is your most treasured possession?
My wedding ring. September 18, 2018 I got to marry to woman of my dreams. My mom gave me my grandfather's ring that he wore for 50 years and I had it fused with another ring to make it my own. I was very close with my grandfather and I am so excited to have a part of him with me every day.