Samip Raval - Training Consultant
Born and raised in North Carolina, Samip is a performer and director in theater and film.
Selected Credits: International Tour of Disgraced by Ayad Akhtar; Regional Theater includes Arena Stage, Playmakers Repertory Theater, Eugene O'Neill Playwrights Conference.
Directing credits: M. Butterfly by David Henry Hwang, The Who And The What by Ayad Akhtar, the World-premiere of A Small History Of Amal, Age 7 by Lindsay Joelle, and Guards At The Taj by Rajiv Joseph.
Samip has held residencies and workshops with the Kennedy Center, Oregon Shakespeare Festival, ACT Seattle, Lincoln Center Education, Cornish College of the Arts, and LaGuardia Performing Arts Center.
He has worked as an instructor for over ten years and teaches at the UNC School of the Arts, Drama Summer Intensive.
Samip is a member of the Actors Equity Association and holds a BFA from the University North Carolina School of the Arts.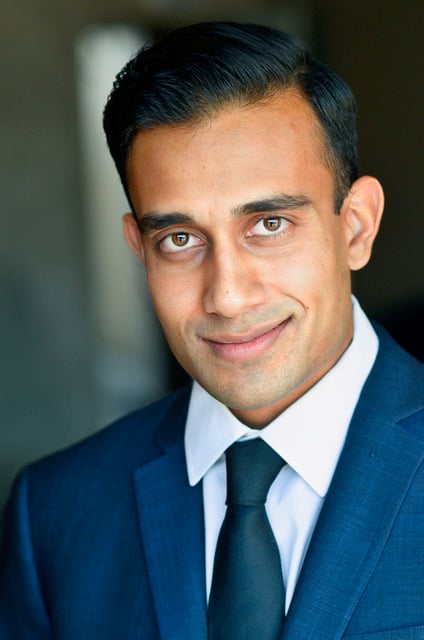 | | |
| --- | --- |
| | 866.202.0422 x705 |
What is your favorite moment in the training room?
When the lightbulb goes off for someone. I believe the observational opportunities are equally essential as being a participant because you can often have the greatest epiphones as an observer. As a participant or practioner working in the space, you can experience change, hone the practice, and notate the difference or learning moment during a separate time, but observing closely gives one the chance to seek specific goals, and notice the difference when applying to technique or practice.
What do you consider your personal trademark as a trainer?
I truly believe that no two people are the same. I simply cannot copy and paste a strategy or curriculum for one person and expect it to fit perfectly with someone else. We each have different strengths and weaknesses, and I pride myself on identifying different exercises for each person based on their needs.
Which role or performance of your own has meant the most to you as an actor?
I got to play Abe in Disgraced, by Ayad Akhtar. It was my first encounter with his work and it opened me up to a new way of experiencing plays and text. I got to perform in two separate productions of it later and the play continued growing in me, and changed with me each time I returned to it.
Which words or phrases do you most overuse?
Kobe! (every time a crumple up a sheet of paper and throw it into the trashcan)
Who are your favorite actors?
I remember seeing Mark Rylance in Twelfth Night. I never believed there could be anyone defined as "the greatest actor"…until I saw him in the play. He really could play anything on the scale, and I imagine such specificity can only come with his commitment to practice and play.
Which talent would you most like to have?
Whistling. I've tried for a long time, and I still can't do it. If I ever audition for a part where whistling is required, I'll have to come to with a sound cue.
What can't you start your day without?
A good breakfast. It's so important that sometime I go to sleep thinking about what I'll choose…pancakes? Eggs & toast? Gronola, yogurt, and berries? It sets me up for the day.
What is your hidden talent?
If there aren't any board games or cards around, I'd like to think it's coming up with fun games.
You've won a vacation of your choosing! Where are you going?
I heard they're taking people to space now. If I won a vacation anywhere, I'm calling Expedia to find me a trip to Moon.
If you were to die and come back as a person or a thing, what would it be?
Some trees can grow to a thousand years old. Although I would initially think it wouldn't be much fun to stay in one place for an entire lifetime (or ten!), only trees can witness the incremental growth in our seasons, and in nature. I also image they aren't as lonely or inactive, since they give shelter, food, and nutrients to insects and birds. So I'm sure three hundred to a thousand years gives them enough time to make friends. But if not a tree, I'd return as a hawk.
What is your most treasured possession?
My violin. I love to play and sometimes I get more time to practice than others. But I've learned it's something I've come to rely on more.